Diabetes Design Initiative
Empowering the use of Continuous Glucose Monitors
This project runs in conjunction with the quarter system at UCSD. I've been participating for 2 consecutive quarters, and I'll talk about what I did and learned for both quarters. You can learn about the research group here.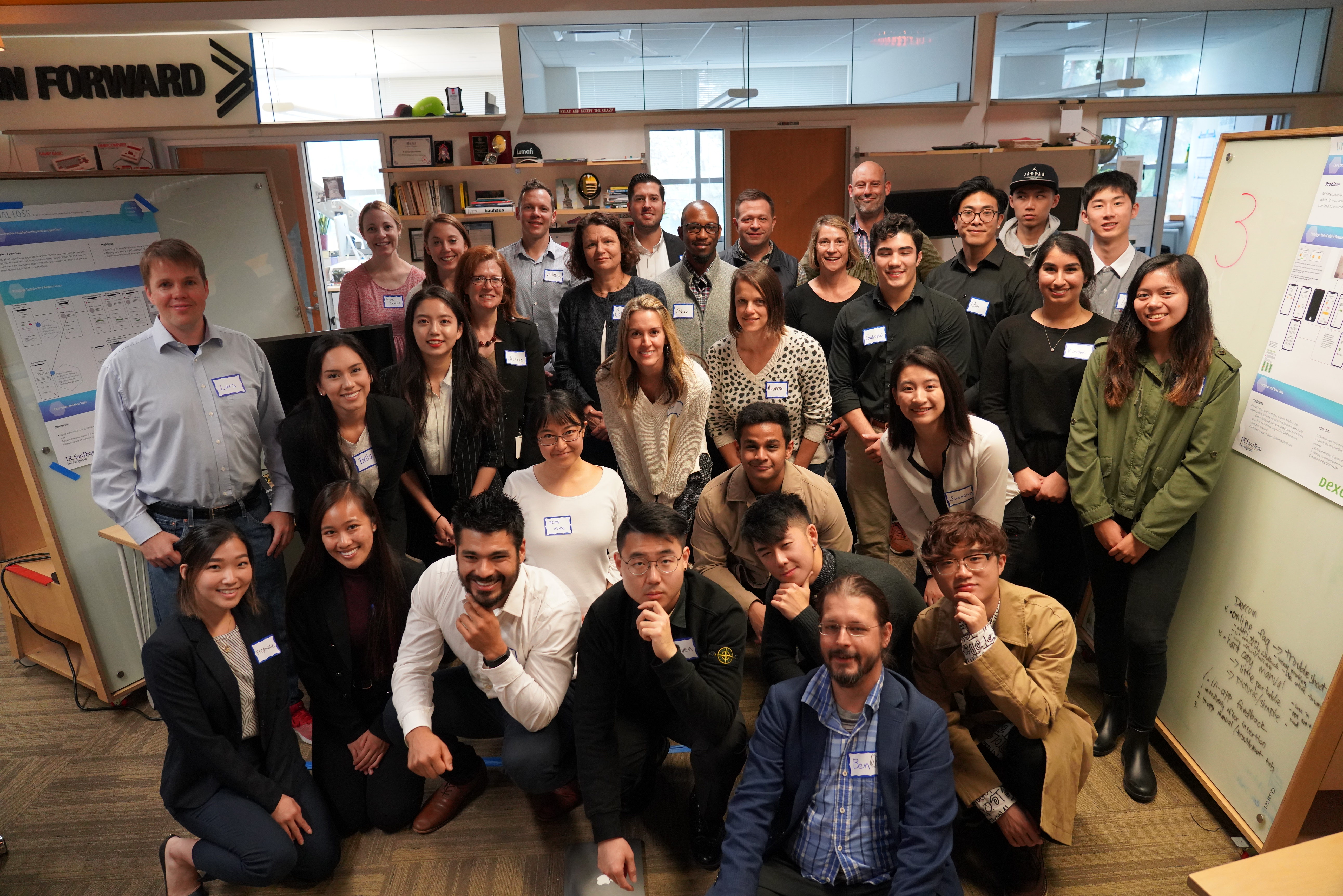 DDI Fall 2019, October 2019 - December 2019
Diabetes Design Initiative (DDI) is a collaboration project between UCSD Design Lab and Dexcom. The project builds upon problems that diabetes patients face when using Dexcom's continuous glucose monitor (CGM), and team members design solution concepts using a human centered approach.
For Fall 2019, Dexcom was seeking different in-App solutions to reduce the number of tech support calls from users. Our group tackled the problem of "How to visualize the history and status of a complex system in a simple and insightful manner?", and designed a prototype based on that. The concept was well received and now being developed internally by Dexcom.

I'm unable to share details about the works due to NDA, but I'm happy to share my general thoughts. You can view the Fall 2019 DDI project page here.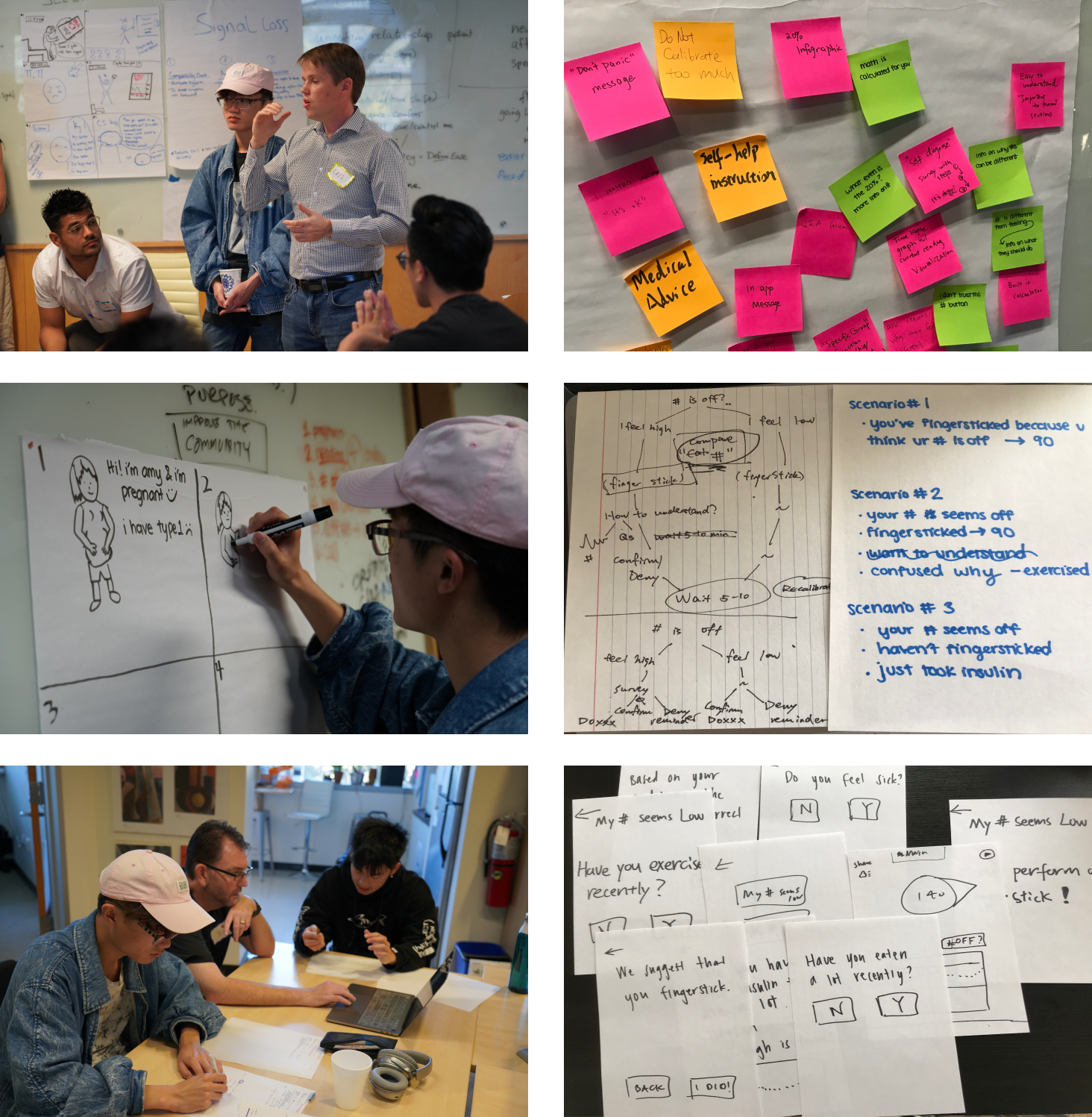 My Roles
From October to December 2019, I conducted primary research on users' opinions towards CGM problems by analyzing Dexcom interview transcripts. Secondary research was done through sources like Dexcom Facebook groups, Reddit, forums, etc.
I presented our first phase deliverable to Dexcom, including insights from research, and solution proposal.
Lastly, I tested our paper prototype with 5 users, and worked with my teammates to refine the user flow. For the final prototype, I designed high fidelity screens of a specific flow. The group tested with 8 users, and gathered feedbacks.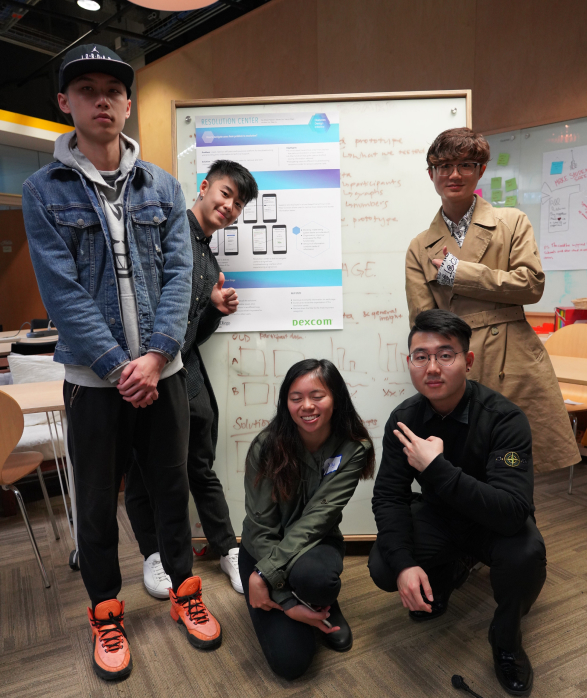 Retrospective
When I joined DDI, I had no prior knowledge of diabetes and was unsure how things would go. Fortunately, mentors of DDI and Dexcom staffs provided a lot of guidance, and I learned some important lessons during this quarter.
1. Understand industry constraints
Initially, our group had another solution. We thought it made sense and was all good. But it got scrapped by Dexcom because it involved offering treatment advice, which they were cautious against. From this experience, I learned that researching constraints was as important as researching the problem in UX and product design. Knowing the constraints lets me know whether the design is feasible or not.
2. Different sub-users' behaviors are different
When we tested our final prototype, we received very polarized feedbacks from different users. Older users struggled a lot with wording and information architecture, while younger users didn't have too many problems with those. This made me realize the sub-users under a product's demographic are very different, and now I research more on different user types in my other projects.
Lastly, a big shout out to my teammates: Allie, Henry, Steven, and Lin! The work wouldn't have been possible without their contributions.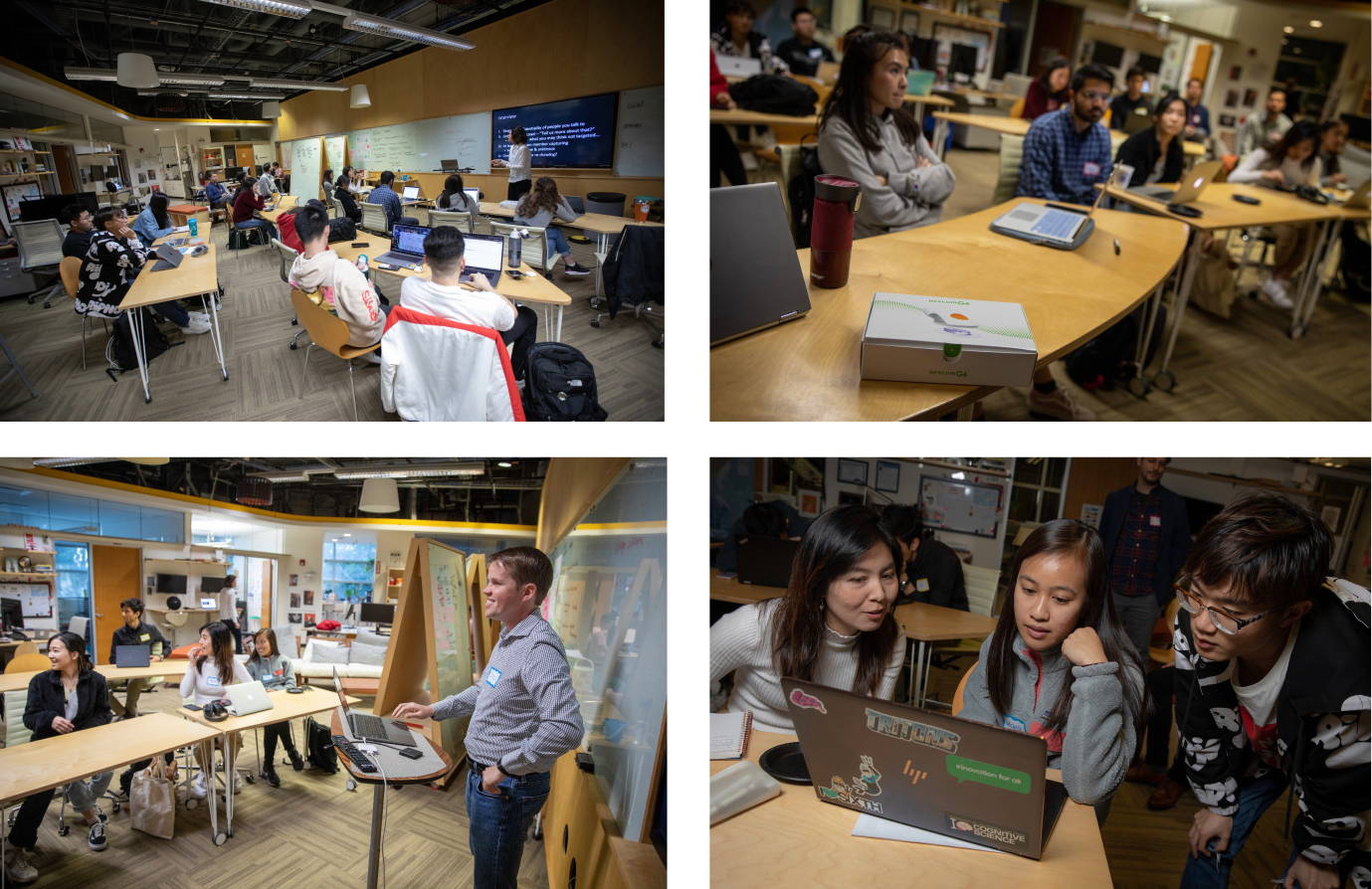 DDI Winter 2020, January 2020 - March 2020This time, Dexcom wanted to explore the users' daily interactions with their continuous glucose monitor in different settings. Me and my teammates got assigned to explore the empowerment of CGM use in colleges.
Through user research, we identified multiple design opportunities, and came up with ideas such as event planning and physical solutions. Eventually, we pivoted to the problem of How might we empower students with a Dexcom CGM in the classroom?We developed a prototype that allowed students to self advocate, and get informed of their readings in classroom settings. We received overwhelmingly positive feedbacks from users, and our final presentation to Dexcom was also a great success. Feel free to check out the Winter 2020 DDI project page!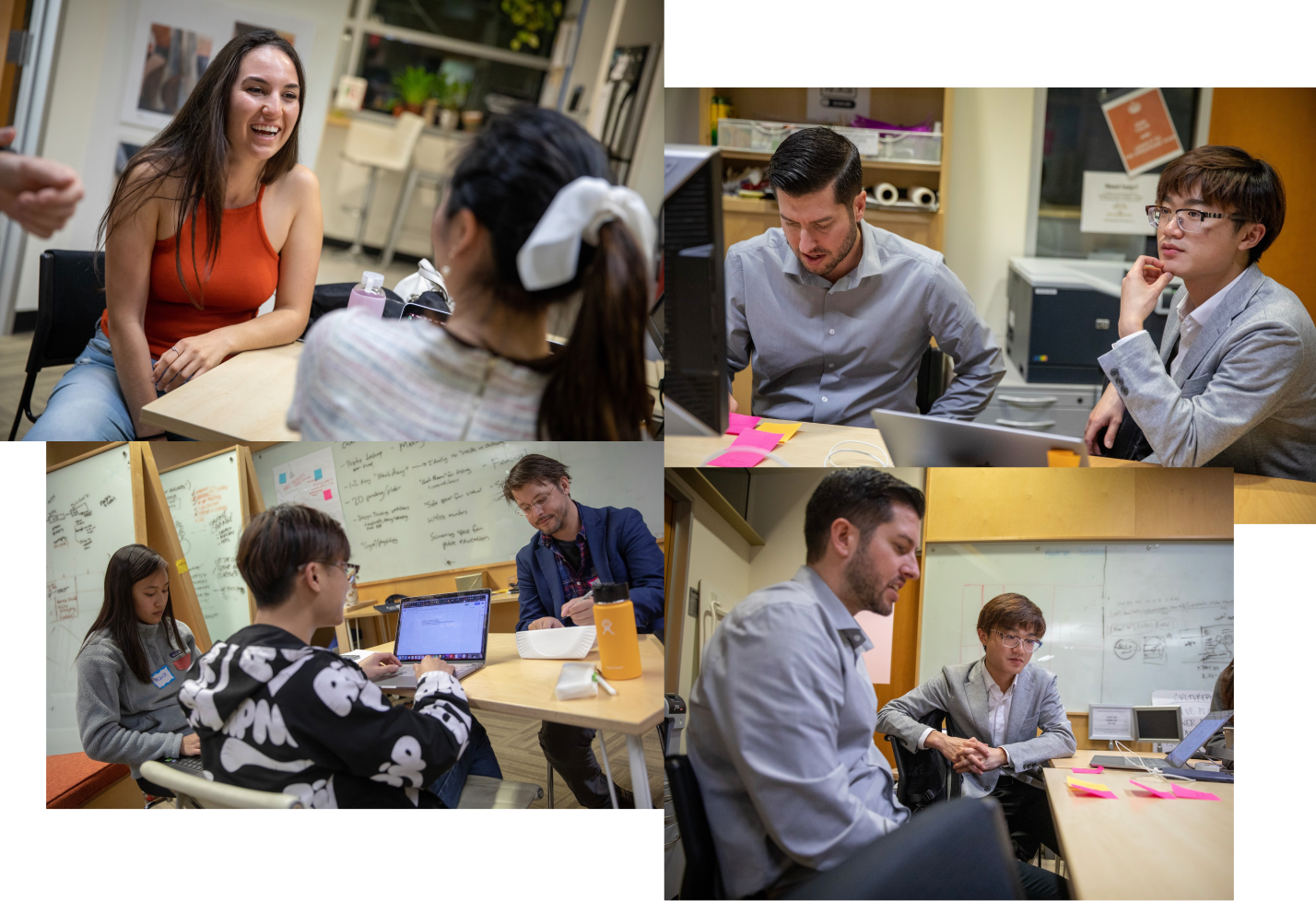 My Roles
I interviewed 3 UCSD diabetes students to find out the unique challenges they face in college with their conditions.
I conducted secondary research on the subject matter from sources like College Diabetes Network, Reddit, etc.
I also communicated research results with teammates and stakeholders. We used all the feedback to create the final prototype in Figma.
During design, I brought up the the need to consider what happens when the smartphone's screen locks out. Later, I designed the lock screen interface of our solution, which became a core feature.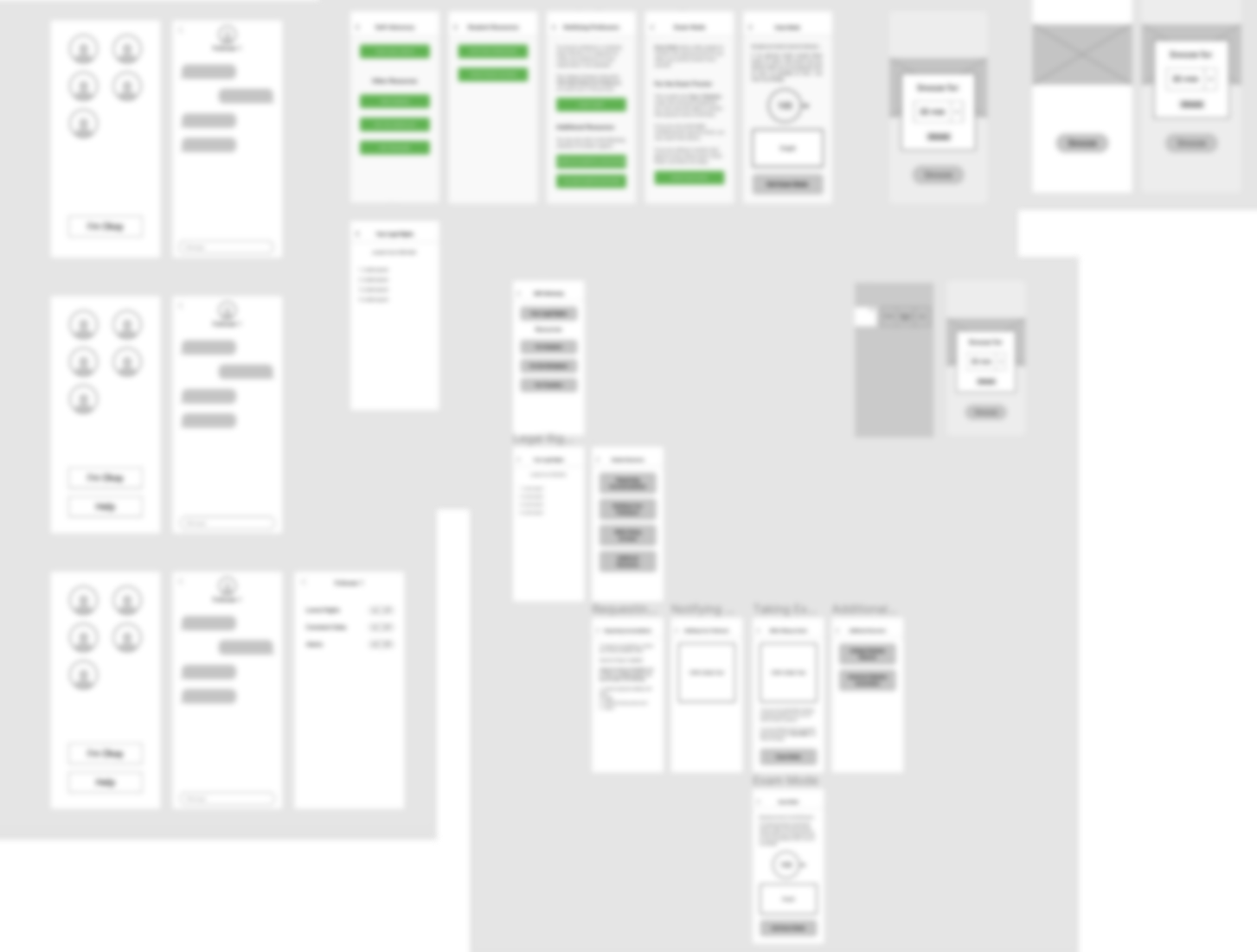 Retrospective
This quarter's DDI was harder because we explored a brand new problem area which Dexcom didn't have much resources to provide, and was very open ended. I will learned some valuable lessons from this unusual experience.
1. Understand the WHY
Our group initially struggled to pinpoint a specific problem, so we decided to Ask Dexcom why they wanted to explore CGM use in college. Through discussion, we understood their intention of elevating CGM from just a tool to an active medium where one can advocate for himself. Now, I always discuss with PMs/stakeholders to understand their needs and perspective before conducting research and design.
2. Think Wild & Speak Up
I've always been hesitant to speak up, especially when working with more senior people. However, this time I brought up the concern that we should account for when the phone screen locks out during the design process. What I initially thought of as an edge case became one of the core features of our solution.
3. Qualitative Research Needs Practice
For many of my other projects, I did qualitative research "just for the sake of it". But with the healthcare focus of DDI, qualitative research played a much more important role. I learned the method of "A Day In the Life" from my mentor, and it has not only helped my find out user needs in DDI, but also other class projects.
Also, I want to thank my teammates Angela, Michelle, and Tiffany. Thank you all for making the end result possible!